Under The Boughs Hoop Earrings, small | Päivi Keski-Pomppu
| | |
| --- | --- |
| Year | 2023 |
These earrings are the smaller version of Keski-Pomppu's loved UNDER THE BOUGHS Hoops. The shape of these earrings resembles the natural and organic forms found on tree roots and boughs. Perfect for both everyday as well as festive use.
Additional Notes: Silver gets darker due to oxidation over time, but it's easy to clean with liquids meant for silver cleaning. You can also get your precious jewellery to shine again by using a polishing cloth. Silver jewellery stays brighter if it's used frequently.
Handmade in Helsinki, Finland
105,00 € – 135,00 €
| | |
| --- | --- |
| View the piece | The work is located at Lokal gallery, Annankatu 9, 00120 Helsinki. Welcome to view the piece! |
Additional information
| | |
| --- | --- |
| Material 3 | |
| Makers | |
| Material | Gold plated, Silver |
| Class | |
Päivi Keski-Pomppu is a fine jewellery designer based in Helsinki, Finland. Keski-Pomppu completed her degree in Lahti Institute of Design in 2002. In 2018, Keski-Pomppu began studying in the Department of Interior Architecture at Aalto University. Born and raised in the tiny village of Torro in rural Finland, Keski-Pomppu was drawn towards handcrafting already as a small child. Today, she draws inspiration from a variety of themes, including minimalism, art and architecture, as well as the silence and ruggedness of nature. Her jewellery is like small works of art, born from experimentation and revolving around multiple themes. Every little detail in Keski-Pomppu's jewellery is carefully considered. The jewellery is made from precious metals using traditional artisan methods that require utmost precision.
"What has always fascinated me about making jewellery is that you can be free to focus on small details and form, rather than just functionality. I studied to become an industrial designer and an interior architect, and I see that scaling and observing things has an important influence on the kind of jewellery I design. Jewellery has been an important means of expression for me since the age of 16, perhaps precisely because it is at the interface of a utility object and a small art object. In addition, making jewellery is challenging and difficult, there is a lot to learn every time, and I think that is one of the fascinating aspects of handicrafts, it challenges its maker again and again. In unique works, every small change brings new considerations to be solved. Making them is slow, and then also something more profound is born into each piece of jewellery."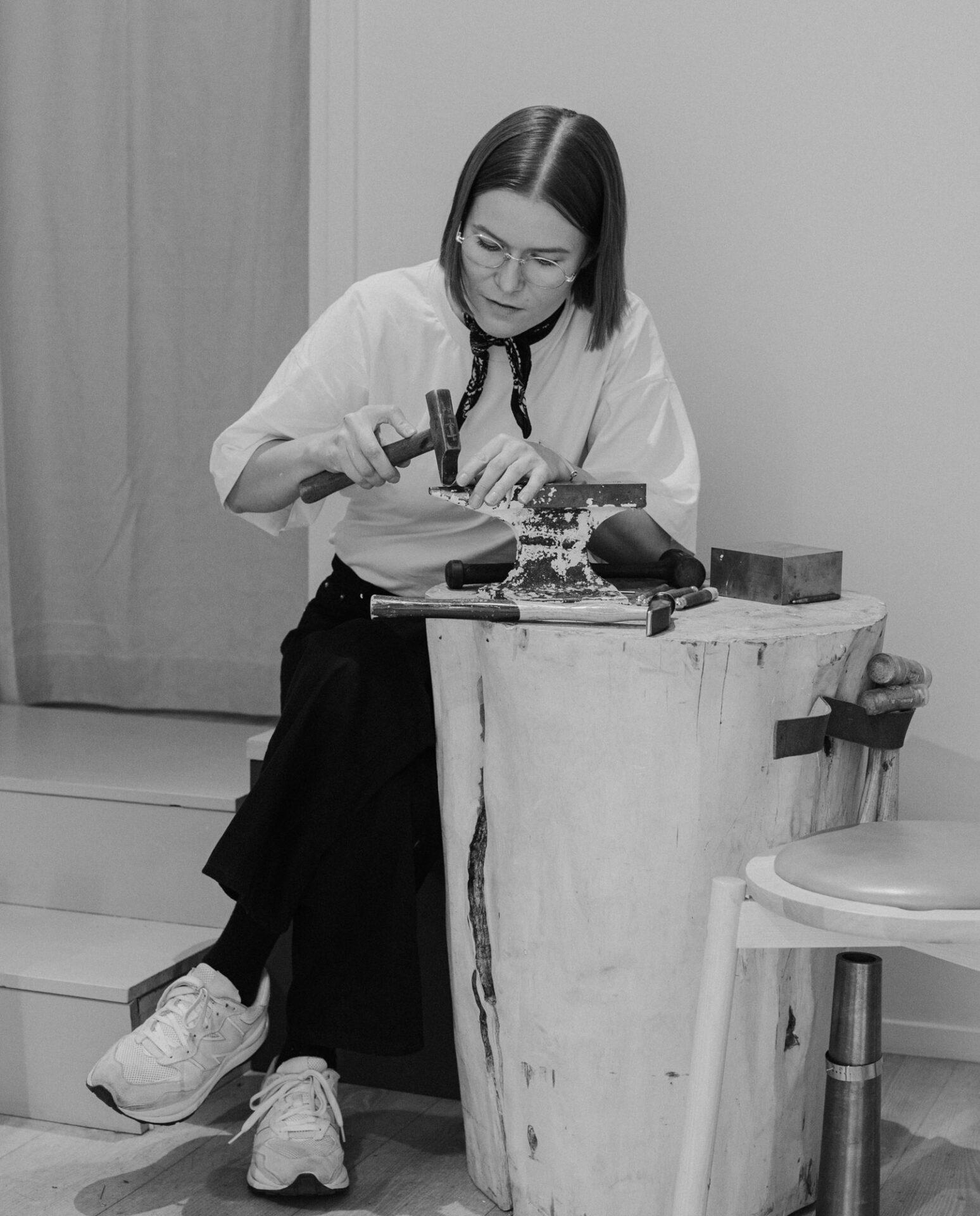 Päivi Keski-Pomppu