Milla Vaahtera / Sculptural Light no. 53
Year: 2022
Medium / materials: Hand-blown glass, brass, cable, ceramic terminal block, E14 lamp, cable
Size: 82 x 32 x 50cm
Glass blowers: Nuutajärvi Glass Village team
The price of the artwork includes a pick up from Annankatu 9, Helsinki
Shipping
Unfortunately the size of this artwork makes it a bit challenging to ship. If you wish a shipping – Finland or worldwide – please don't hesitate to contact us at info@lokalhelsinki.com and we will tell you more about the shipping options.
Milla Vaahtera is a designer and artist who is most known for her unique pieces combining bold glass parts with delicate brass. The themes of her works extend from body image and sexuality to intuition and collaboration in the creative process. After starting with Dialogue series in 2017, shown in the Design museum of Finland, she has continued her journey from mobiles to sculptural pendant lights and unique serving vessels. The process of making her pieces is based on dialogue and​ ​improvisation with the glassblowers, as Vaahtera loves the unexpected outcomes and finding the balancing tensions in the final forms.
"Glass is like me, spontaneous and organic.
The creative process of joining methods of art to traditional areas of craft is the most important thing to me in my work. Traditionally craft has been an area where professionals avoid failure. Lack of failure makes them good. I'm revolutionary in embracing failure in the craft process. I always find new techniques via failure. Failure is not opposite to success, it's a necessary part of it. When I find the flow of "not giving a shit" in my work, I find freedom and fun, and achieve the best work. Embracing failure shuts up the critical comments in my head and I'm liberated. I'm inspired by everything and find influences all around me. I find leaving some tool marks to the brass and "the mistakes" refreshing. With glass, the pieces where you could see the moment of melt in the final work are always my favourites. And I felt that now I work in dialogue with glass. I learned to use improvisation at the moment to maintain the wild nature of glass."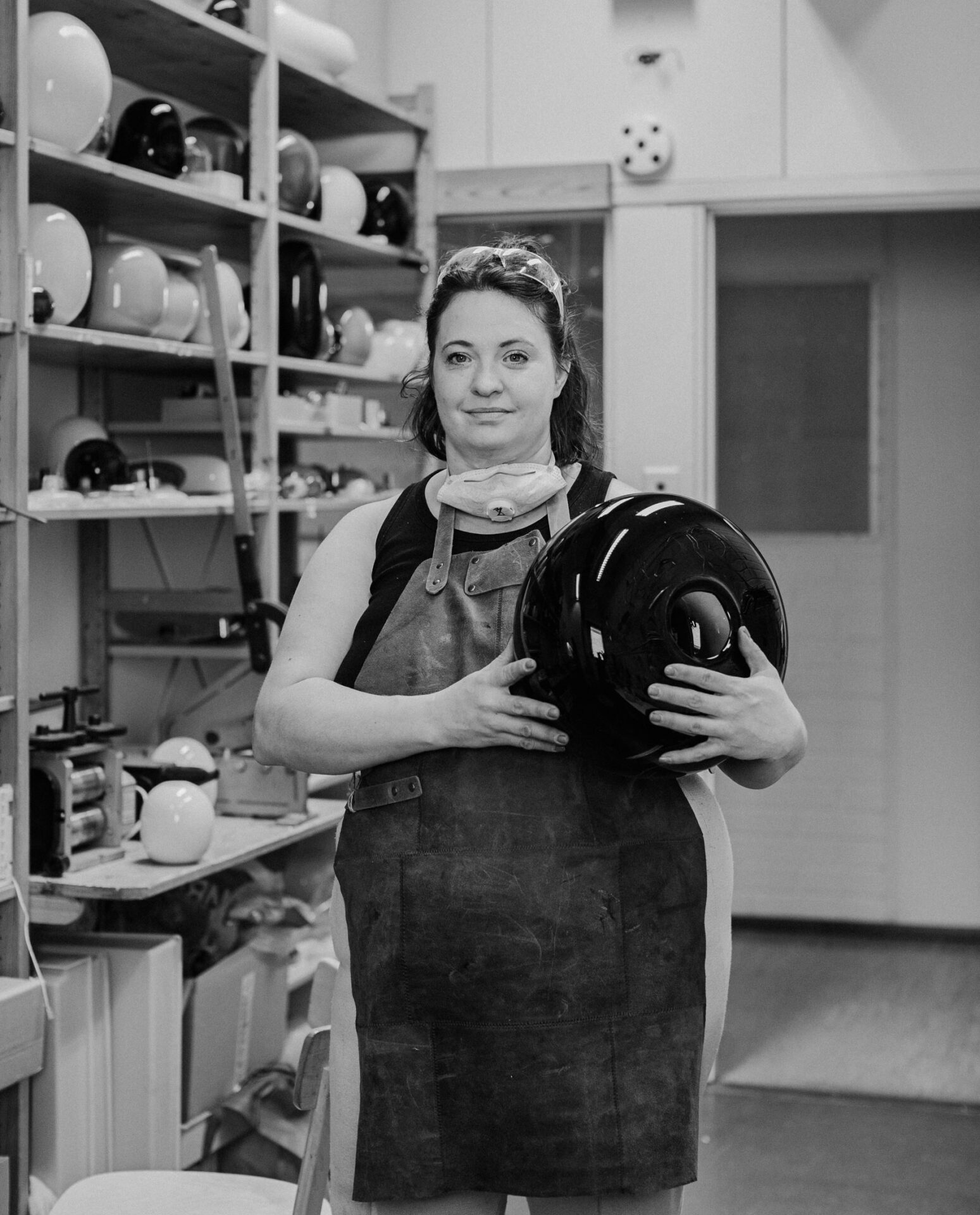 Milla Vaahtera