Lokal Living: Art in Homes
We visited the beautiful homes of some arts & crafts lovers, who also happen to be Lokal's customers. Each piece has a unique story behind it, and so does each formed encounter. We wanted to learn more about their relationship to the artworks as well as the handmade design items in their life.
We visited the beautiful homes of some arts & crafts lovers, who also happen to be Lokal's customers. Each piece has a unique story behind it, and so does each formed encounter. We wanted to learn more about their relationship to the artworks as well as the handmade design items in their life.
Virpi Suutari & Martti Suosalo
with Katja Hagelstam's photograph of Esplanadi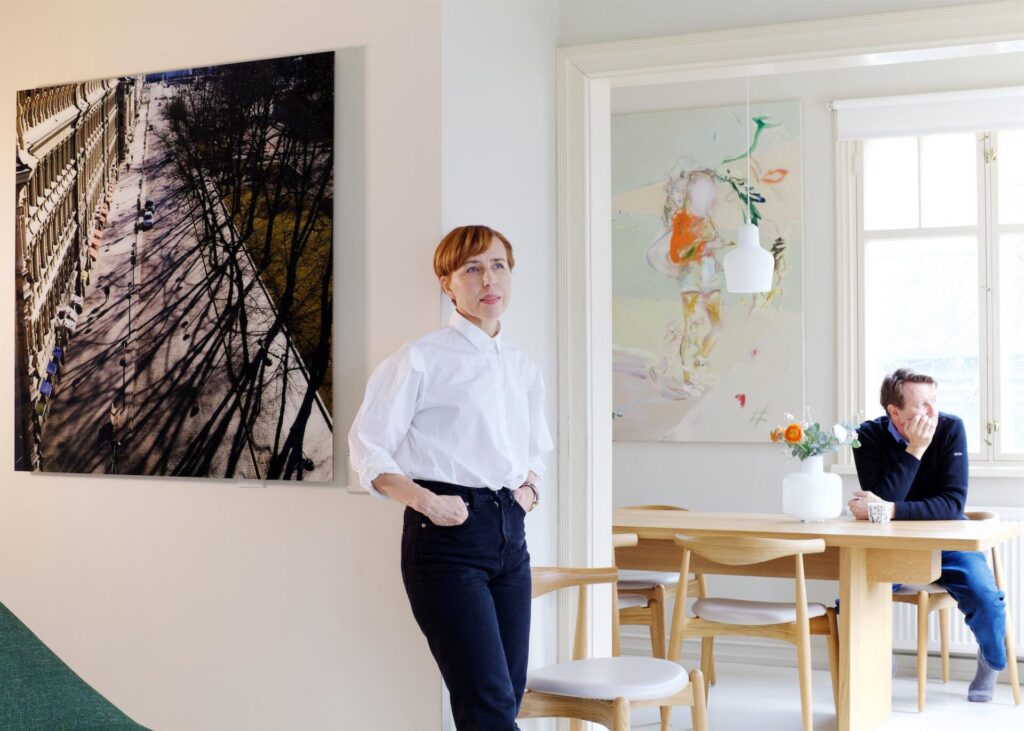 "The function of an art piece is to awaken thoughts within us. Art brings beauty into a home. The pieces are admired in all seasons; they always look different. The artworks create different atmospheres around them, which encourages people to stop in the spaces they're placed in. They are always present after they've moved in with us."
"Katja Hagelstam's photograph is like a window somewhere. When in the morning we come down from our bedroom, it almost feels like we're already stepping into the city. Paintings are, in a similar way, glimpses into other realities."
with Tuija Tarkiainen's 'Q' cross-stitch piece
"Works of art are reminders of personal memories which relate to certain phases in life. With each artwork there's also been a kind of infatuation or encounter, which has then resulted in it ending up with me. We've got many pieces which we've inherited, which creates a fun layering in our home."
"This cross-stitch by Tuija Tarkianen is significant because it marks the beginning of our mutual Typocraft project."
Merja & Petri Tuomi-Nikula
with Kim Simonsson's Metsätyttö (Forest Girl)
"Art is rest. When I come home and see something beautiful, my eyes and my mind rest and I feel joy, regeneration and calmness. Each time, each piece speaks in it's own way."
"Kim Simonsson's Forest Girl is a comforting work fo art. It found me. It greets me every day."
Tuomas Jääskeläinen & Karoliina Hellberg
with Katy Hertell's Luonnonsuojelija I
Tuomas: "As a graphic designer, I am always surrounded by images, and of course want to be. Art is looked at differently than images, there is always something undefined in art. I have a personal relationship to all the pieces I acquire – my walls are full of small stories."
"Katy Hertell's Luonnonsuojelija (Nature conservationist) was at the time a social media sensation, and I had seen photos of it on instagram. When we finally met on our gallery walk, the purchase was quite impulsive. I had just moved, and was thinking about what to bring into my new home. Sculptures have been more difficult to collect and place in a small home, so I was also intrigued by that aspect."
Karoliina: "Sometimes I might buy an artwork which I associate to a memory, and sometimes the piece in itself and it's acquisition creates those associations. Through them I am reminded of a certain phase in my life, and that creates a depth."
"It was a lovely and unforgettable moment when "She came along".
with Ananya Tanttu's Limonaia photograph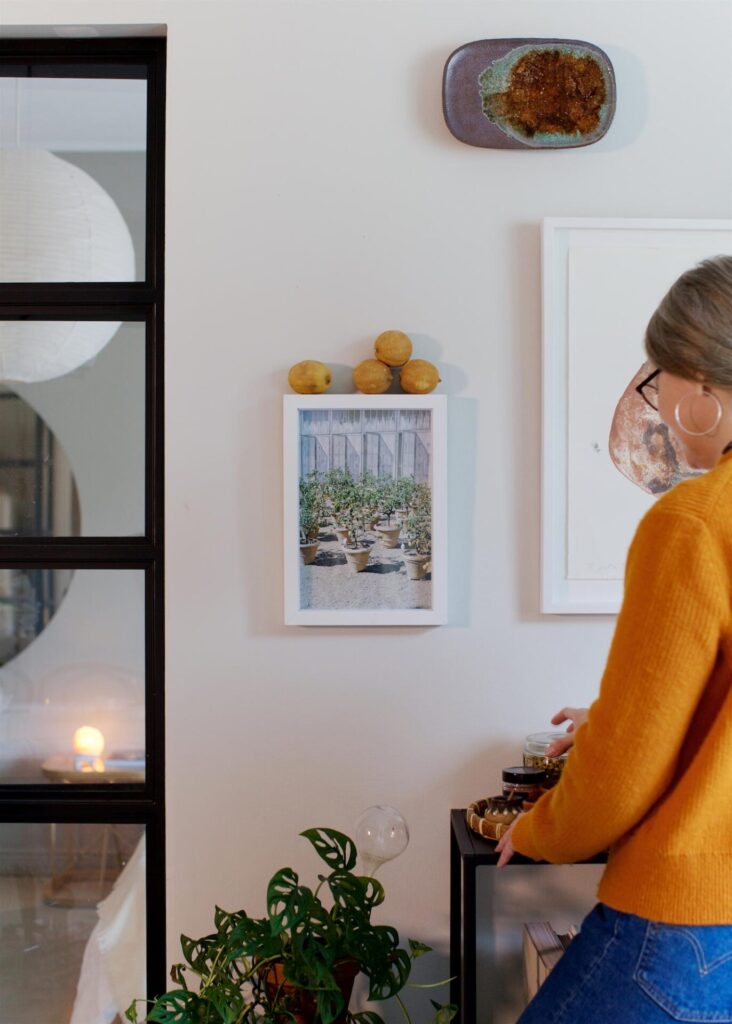 "I have not wanted to consume or buy much, but art is a more timeless and sustainable thing, so I allow myself to buy it. Each piece embodies a stage of life. For example, when my father died, I wanted to buy an artwork in which he in a way is present."
"Ananya Tanttu's photograph of lemon trees reminds me of that something needs to be done every day. Some people put quotes on their fridge – for me this piece is enough."
Veera Kulju & Ilkka Kärkkäinen
with Aimo Katajamäki's Laulajat sculpture
Ilkka: "In art, one has always got to have a personal connection to the artist or the artwork. Art is in some way such an obvious part of life – it would be impossible to imagine having a home without art in it. Since the time I have received a salary, I have had my eyes on an art piece or a design item, which I have decided to purchase."
 "I have known Aimo Katajamäki for a very long time. I used to live in the house in which his studio also was, and I always admired him. He has such a magnificent signature style in whatever medium he works with. He has always remained true to that, which is something I admire."
Veera: "An emotion is always related to art. In a sense it's the odd one out, it's functional significance is that it's a "stopper". It's meaning is precisely that; it always slows you down, stops you."
"This is the first work of art we have chosen together. I also admire Aimo's work so – there were many favourites in the exhibition. This was the one we both rooted for."
with Sasha Huber's Polar Bear Cub
"Besides the capacity art has of creating an air of uniqueness in certain spaces and rooms, almost all artwork reminds one of something important in life. Something which goes beyond the mundane. We need things that remind us of other things than our everyday thoughts. Every piece also contains it's own history and origin, alongside whatever it is that the artist has wanted to bring forth."
"This piece by Sasha Huber is slightly political to me – it reminds us of our responsibility for the future generations. The polar bear is portrayed in a very powerful way, because it is that, but in reality we as humans are capable of so much damage. It is the same in so many ecological issues; we can see something as very strong, but the truth is that there is a lot of fragility and vulnerability."
with Riikka Latvasomppi's sculpture
"I like art to give a kind of miniature catharsis, that threre's a moment of a few seconds of your life thinking about something completely different. Ideally there is something slightly disturbing or strange about it – it could also just be funny, amusing or surprising in some way. In general, something out of the ordinary."
"This particular work I guess is more on the surprising side. It makes you wonder; what has happened there? Why is the faucet there, for one, why is glass hanging out of it, but then again, especially how light hits it and is refracted is particularly beautiful on summer mornings. That light also brings out the star pattern in the drop which you're normally not able to see."
and Veera Kulju's Forest bowl sculpture
"Art at home does mean a lot. The atmospheres and the colours are very important. Then there's the decision; why has one chosen a particular piece in a particular moment, what has one thought of the work, why was it touching at the time, what does it relate to in one's own history. It's impossible for me to imagine a home which wouldn't have art, design and handcraft in it."
"When I for the first time saw this piece by Veera Kulju, I was instantly infatuated. It's a kind of hybrid of living and non-living, a plant and a stone in one. First there's the beauty, which lures you to the work, then come the other thoughts and associations."
with Sasha Huber's silver Star
"I have always been more excited about creativity than art. I am driven by ideas, always looking for insights, something unseen and exceptional. This work by Sasha Huber is a present to Sara. I love not only the work but also its position in our home. Slightly odd, lacking symmetry, just like good life."
with Nathalie Lautenbacher's Coralia porcelain relief
"Art is a bit like nature to me; it's soothing and healing, you can never have too much of it, and you don't have to own it to enjoy it. Even when life is busy, visiting an exhibition feels like a good investment of time. I always feel wiser and more connected to life afterwards. I think it's vital to physically experience art and creativity – not just on computer screens. We lose the sense of scale, as well as understanding of the depth of things, if we only look at pictures online. Art is not just for the weekends and museums, though. Handmade housewares bring art to the everyday.
"The ceramic tile composition by Nathalie Lautenbacher is quite a recent addition to our home. It's got a dreamy name, Corail, and it reminds me of all the sweet things in life, even silly things like, ice cream flavors. That's what art does to people. It makes us more human. Softer and kinder, brighter. Inspired."
For my home, I choose pieces very intuitively, and there is often a humble quality to them. I like the idea of intimacy in a home interior, that you have to step closer to study a piece, as opposed to taking a step back. I also like to move things around. Pieces are hung where there is a proper nail on the wall, and with every new location comes a new angle. You see the creation with new eyes. To avoid becoming blind to our surroundings, it's good to shake things up, make them matter.
with Leena Kouhia's Raaka Rå plates
"Actually art is the only thing that matters in a home. It is precisely the art which brings the soul into a home, and through those choices you instantly sense what the inhabitant appreciates, which are the things are important to them. I really like photographs because as an editor I have engaged with them a lot. I have bought artwork on travels and some I have been gifted. Often the association is that I either know the artist, or that I have a personal connection to the piece."
"Functional objects can also be art objects, and if the maker's handprint can be seen in the piece, it is all the more valuable. Besides the handmade pieces being unique, it is feels meaningful to buy them, as you are simultaneously supporting small producers."
with Nathalie Lautenbacher's Lokal Kollektion coffee cup
"Art makes a home. It is more important than furniture. We have always had a lot of art on the walls. My grandparents were painters and I grew up amongst paintings. To me it is important that there's art even in storage. Even if generally I wish there would be less materia and fewer belongings, that does however not apply to artwork."
"The role of this cup in incredibly important. In my morning daze when I look for a cup, no other cup will suffice. I have thought about the time when people carved from wood their own spoon and mug – there is something special about that. Nowadays there is too much of everything, which makes it important to have just one, and not too many."